(VERSIONE ITALIANA A SEGUIRE DELL'INGLESE)
Didascalis is the chill-out project, behind which lurks David Marani.
Born in Cesena August 10, 1973, graduated in oboe at the Conservatory of Cesena 'B. Maderna ',
keyboardist, bass player, singer, composer, arranger and studio musician.
The project was born by chance, earlier "live" during his evenings as a piano-man.
A location wanted him to play this kind of music as a pre-dj set, so he began approaching to lounge world, starting to listen to this kind of music very frequently.
Shortly after the first experiments, "Fireworks", "Nightbreeze", "Just A Little Melody" and "It's So Beautiful"saw the light.
The meeting with Andrea Corelli's M.O.D.A. Music Fashion, still editor Didascalis leads him to develop the proposed studio.
Then come the evocative Memories (initially with a female vocal, but not finding the right feeling remained the voice of Davide as demo) and Rainfall.
In 2007, released in digital download "Beautiful Strange Memories Of A Summer Breeze", long title that plays on the titles of the songs in the tracklist.
Will be published in 2011 "Loss", the second work containing the title track dedicated to his father's loss.
12 tracks including 5 vowels, including an intriguing cover of Depeche Mode, "Waiting For The Night", a band of which Davide is a fan as a child.
Employees can still see Daniel "Dano" Caprelli (already present in BMOASSB) on flute and soprano sax, a cameo voice of Erika Tozzi for a version of 'restored 2011' of the already published "Together", and a great Andrea "Andy G" Guerrini (DAF involved in the project along with David) to the flugelhorn in a version even this 'restored 2011' "The Night", for AltaModa (M.O.D.A. sublabel).
It is digitally released in February 2012 the 3rd album "Basically I'm Fine," a sort of continuation of "Loss" because the songs were, more or less, been written in previous years, and to avoid going out with a double album, are split in two parts.
Nevertheless, during 2011 winter, heralded by a couple of covers of the aforementioned Depeche Mode, Davide wants to carry out a project he had in mind for quite some time, which is a whole tribute album to the band.
The work ends between September and December with the choice of 11 tracks signed by Martin Gore, one of them in two versions and a brand new signed Marani.
Bureaucracies and timelines delay the release of "Enjoy My Wrong Shoes" on July 12, 2013, anticipated by the single "Wrong", accompanied by a beautiful video shot by Matteo Santi during a live performance of Didascalis LIVE Experience.
Such is the fervor that they decide to print the abum on CD.
The atmospheres ranging from lounge to deep-house by tapping hits such as "Enjoy The Silence", 
"Precious", "It's No Good" and "Walking In My Shoes" (this in two very different versions), but also songs for the fans more loyal less exalted as "Stories Of Old" or "My Secret Garden".
Several guests enrich the 4th album of Didascalis raising production to a level much higher than the previous music and emphasizing the maturity of the arrangements.
The logical consequence of "Enjoy My Wrong Shoes" is a double album, born of two needs: to release a series of covers that Davide proposed live with a semi-acoustic line, and assist a solo album.
In the part reserved for covers it is rewarded for its increasingly present and unfailing contribution Andrea Guerrini, attending in all twelve tracks.
Instead, the space reserved for the 12 unreleased, gives the chance to 3 songs from the first album of Didascalis, to have a new life, so "Memories" and "Fireworks" acquire an unplugged flavor, while "Rainfall" is embellished with a magical solo tenor sax thanks to Luca 'Garduz' Gardini.
Is then released in 2014 "Me, Myself & Someone Else" album of 24 tracks, driven by the single "West End Girls", the infamous song by the Pet Shop Boys, who gets a decent radio airplay.
Guests of the double work, in addition to the aforementioned Andy G and Garduz, once again the gentle voice of Francesca 'Frensy' Castorri and Valentino Bianchi on tenor saxophone for an intense "Killing The Time".
The single "West End Girls" was released digitally as E.P. including 4 tracks not on "Me, Myself & Someone Else".
Two years of silence to get to the release in June 2016 of "23:32", an album of 5 covers and 7 originals signed Marani, and preceded by two singles, respectively a cover - "Surrender" was originally written and released by Swing Out Sister - and for the first time an original track, "Black, Blue, Red."
The album's flavor is more uptempo and once again no shortage guests to embellish the arrangements, although stand out songs composed and played as was Didascalis first version, that is only by Davide.
Once again the trick of b-sides on digital singles and not on the album …
Curious about the title of the album, and the palindrome number?
Just ask directly to Didascalis.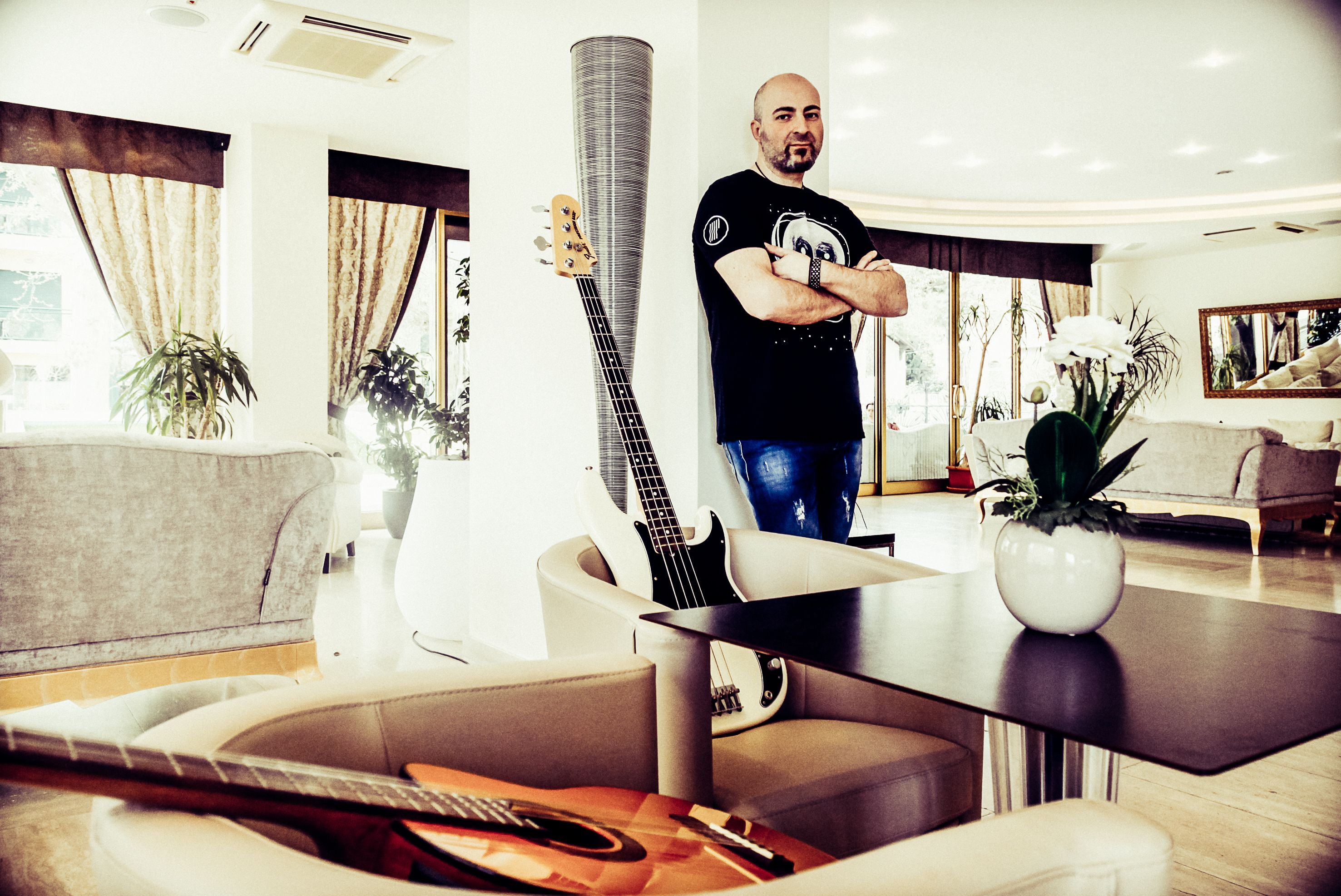 Didascalis è il progetto chill-out dietro al quale si cela Davide Marani.
Nato a Cesena il 10 agosto 1973, diplomato in oboe al Conservatorio di Cesena 'B. Maderna', tastierista, cantante, bassista, compositore, turnista ed arrangiatore.
Il progetto nasce per caso, prima "live" durante le sue serate di piano-bar.
L'esigenza di un locale che lo volesse a suonare tal tipo di musica come pre-serata, lo avvicina al mondo del lounge, iniziando un assiduo ascolto per l'assimilazione del genere.
Di lì a poco i primi esperimenti come "Fireworks", "Nightbreeze", "Just A Little Melody" e "It's So Beautiful" videro la luce.
L'incontro con Andrea Corelli della M.O.D.A. Music Fashion, tuttora editore di Didascalis lo porta a concretizzare il progetto in studio.
Nascono poi le suggestive Memories (inizialmente con un vocal femminile, ma non trovando il feeling giusto rimase la voce di Davide come da demo) e Rainfall.
Nel 2007 esce in digital download "Beautiful Memories Of A Strange Summer Breeze", titolo lunghissimo che gioca con i titoli dei brani presenti nella tracklist.
Nel 2011 verrà pubblicato "Loss", il secondo lavoro contenente il brano omonimo dedicato alla scomparsa del padre. 12 tracce di cui 5 vocali, inclusa una intrigante cover dei Depeche Mode: "Waiting For The Night", band di cui Davide è fan sin da bambino.
Collaboratori vedono ancora Daniele "Dano" Caprelli (già presente in BMOASSB) al flauto e sax soprano, un cameo vocale di Erika Tozzi per una versione 'restored 2011' della già edita "Together", ed un grandissimo Andrea "Andy G" Guerrini (coinvolto nel D.A.F. Project assieme a Davide) al flicorno in una versione anche questa 'restored 2011' di "The Night", per AltaModa (sotto-etichetta della M.O.D.A. Music Fashion).
Viene pubblicato sempre in digitale nel Febbraio 2012 il 3zo album "Basically I'm Fine", una sorta di continuazione di "Loss" dato che i brani erano più o meno stati scritti negli anni precedenti, e per evitare di uscire con un album doppio, vengono divisi per farne due uscite.
Nonostante ciò, nell'inverno del 2011, preannunciato da un paio di covers dei già citati Depeche Mode, Davide vuole realizzare un progetto che aveva in testa da un pò di tempo, ovvero tutto un album tributo alla band.
Il lavoro si conclude tra settembre e dicembre con la scelta di 11 brani firmati da Martin Gore, uno di essi in duplice versione ed un inedito firmato Marani.
Burocrazie e tempistiche fanno slittare l'uscita di "Enjoy My Wrong Shoes" al 12 luglio 2013, preceduto dal singolo "Wrong", corredato da un bellissimo videoclip girato da Matteo Santi durante una delle performance live del Didascalis LIVE Experience.
Tanto è il fervore che si decide di stampare l'abum in CD.
Le atmosfere spaziano dal lounge alla deep-house toccando hits come "Enjoy The Silence", "Precious", "It's No Good" e "Walking In My Shoes" (questa in due diversissime versioni), ma anche brani per i fans più fedeli di minor risalto come "Stories Of Old" o "My Secret Garden".
Diversi ospiti arricchiscono il 4° album di Didascalis elevando la produzione ad un livello musicale molto più alto dei precedenti e sottolineandone la maturità degli arrangiamenti.
La logica conseguenza di "Enjoy My Wrong Shoes" è un album doppio, nato da due necessità: quella di pubblicare una serie di covers che Davide proponeva live con una formazione semi-acustica, e di affiancare un album di inediti.Nella parte riservata alle covers viene premiato per il suo sempre più presente ed immancabile apporto Andrea Guerrini, presenziando in tutte e dodici le tracce.Invece, la parte riservata ai 12 inediti, da la possibilità a 3 brani presenti nel primo album di Didascalis di avere una nuova vita, così "Memories" e "Fireworks" acquistano un sapore unplugged, mentre "Rainfall" viene impreziosita da un magico assolo di sax tenore grazie a Luca 'Garduz' Gardini.Viene quindi pubblicato nel 2014 "Me, Myself & Someone Else", album di 24 brani, trainato dal singolo "West End Girls", famigerato brano dei Pet Shop Boys, che ottiene un discreto airplay radiofonico.Ospiti del doppio lavoro, oltre ai già citati Andy G e Garduz, ancora una volta la delicata voce di Francesca 'Frensy' Castorri e Valentino Bianchi al sax tenore per un'intensa "Killing The Time".Il singolo di "West End Girls" viene pubblicato in digitale come E.P. includendo 4 tracce non presenti su "Me, Myself & Someone Else".Due anni di silenzio per arrivare all'usicta a giugno 2016 di "23:32", un album composto da 5 covers e ben 7 inediti firmati Marani, ed anticipato da 2 singoli, rispettivamente una cover - "Surrender" originariamente scritta e pubblicata dagli Swing Out Sister – e per la prima volta un inedito, " Black, Blue, Red".Il sapore dell'album è più uptempo ed anche stavolta non mancano ospiti ad impreziosire gli arrangiamenti, sebbene spicchino brani composti e suonati come era Didascalis in prima versione, ovvero solamente da Davide.Si ripete il giochino delle b-sides presenti nei singoli digitali e non presenti nell'album...
Curiosi sul titolo dell'album, e sul numero palindromo?
Chiedetelo direttamente a Didascalis.