English version below
Confesso di essere davvero emozionato ed eletrizzato nel fare questo annuncio:
Il 25 Aprile 2016, uscirà "Surrender", il primo singolo dal mio prossimo album dal titolo "23:32".
"Surrender" è la cover del celeberrimo brano degli Swing Out Sister, singolo del loro album d'esordio; un brano che ho sempre amato, così bello nella sua versione originale, ed ancor di più nell'extended mix, che ho voluto stravolgerlo e portarlo totalmente in un'altra direzione.
L'arrangiamento è impreziosito da amici che hanno già partecipato alle mie produzione e non:
Frensy, ovvero Francesca Castorri, già in "Enjoy The Silence", "Quietly" etc., backing vocals
Andy G, ovvero Andrea Guerrini, ma ormai non ha più bisogno di presentazioni: sezione fiati e flicorno
Henrique Piraì, anch'egli musicista e produttore, direttamente dal Brasile con un cameo di flauto traverso
Il sapore è nu-jazz o chiamatelo come vi pare...
Affezionato ai vecchi 45 giri, il singolo digitale comprende 2 brani, che non saranno inclusi nell'album (le cosidette "b-side"):
"So Simple" è un brano che composi nel 2007, senza una sua vera e proprià identità; la magia del reinventare lo ha reso un brano contemporaneo, collocabile nel mio sound/repertorio e finalmente verrà pubblicato.
"23:32" invece è un gioco che ho voluto fare: un brano che porta il titolo dell'album ma che non ne fa parte, ed è una breve rielaborazione di un brano che invece è incluso nell'album con un titolo diverso...
Ascoltando l'assolo finale di Andy, spogliato dell'arrangiamento in "Radio Signals", sentivo qualcosa di speciale, che mi ricordava un paesaggio notturno in quel di Manhattan, con le luci sfocate; tolto qualcosa, aggiunto qualcos'altro e... spero di aver reso 'musicalmente' l'idea delle immagini che i suoni mi suscitavano...
...e questo è quanto!
D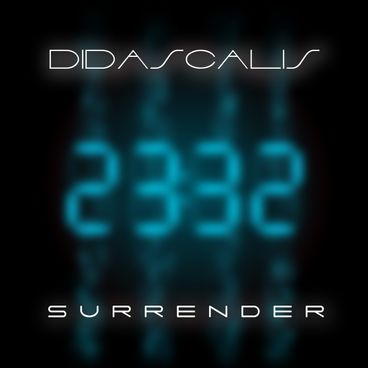 I confess I'm really excited and thrilled making this announce:
on April 25, 2016, "Surrender" will be released, first single taken from my forthcoming album entitled "23:32".
"Surrender" is a cover of the very famous Swing Out Sister single from their debut album; a number I've always loved, so perfect in its own original version, and even more the extended mix, that made me twist it and take it in a totally different direction.
The arrangment is enriched by friends who already took part to my previous productions and who didn't:
Frensy aka Francesca Castorri, already in "Enjoy The Silence", "Quietly" etc., backing vocals
Andy G, aka Andrea Guerrini, who by now don't need any introduction: brass section & flugelhorn
Henrique Piraì, musician and producer too, all the way from Brazil with a cameo on traverso flute
Flavour is nu-jazz, or call it as you prefer...
Fond of the old 45s, this digital single includes 2 non-album tracks (so-called "b-sides"):
"So Simple" is a song I wrote in 2007, lacking of a own identity; the magic of reinvent made it a cutting edge track, suitable to my sound/repertoire and finally it will be released.
"23:32" is a game I wished to play: a track of the album same name but that's not part of it, and it's a brief re-work of an album track differently titled....
Listening to the final Andy solo, stripped down of the arrangment in "Radio Signals", I felt something special, reminding me a night landscape in Manhattan, with blurred lights; removed something, added something else and... I hope I made the idea "musically speaking" of the images that sounds evocated in me...
...and that's all folks!
D