English version below
Forse i tempi, per maturare necessitano di tempo, e forse io ho i miei di tempi.
Per la prima volta pubblico come singolo - il secondo prima dell'album "23:32" - un mio brano.
Nel corso degli anni ho scritto tantissimi testi per sperimentare con brani miei o commissionati da altri...
E in questo caso mi son ritrovato con una traccia strumentale che non aveva liriche.
Perché, scriverne una nuova, quando tante altre sono in una cartella che aspettano di essere cantate?
Spirito di adattamento e... et voilà ladies and gentlemen: Black, Blue, Red featuring Garduz (Luca Gardini) al sax
tenore.
Nu-jazz, chillhouse, Soulful House, Pop-Glamour... scegliete voi il sapore di questo brano!
...
B-side di questo singolo, al contrario, è la cover di un brano di Sting dall'album "Nothing Like The Sun", che
sebbene fosse stato un singolo, nessuno sembra ricordarselo, forse adombrato da Fragile ed Englishman In New
York.
Stiamo parlando della stupenda "Be Still My Beating Heart".
L'arrangiamento me l'ha suggerito la sigla della serie "I Soprano" degli Alabama 3, ma non perché sia un fan della
serie, bensì perché la sentii durante un episodio dei Simpson.
Il featuring è affidato ad Andy G, e non farà parte di "23:32".
Su iTunes, Bandcamp, Spotify e tutte le piattaforme digitali da lunedì 16 Maggio 2016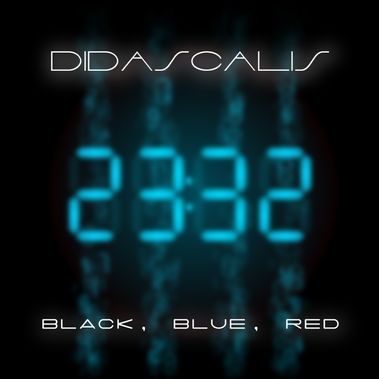 Perhaps the times need time to mature, and perhaps I have my times.
For the first time I'm going to release as a single - the second one, before "23:32" release - one of my tunes.
Over the years I have written many lyrics to experiment with my music or commissioned by others ...
And in this case I found myself with an instrumental track that had no lyrics.
Why write a new one, when so many others are in a folder waiting to be sung?
Adaptability and ... et voila ladies and gentlemen: Black, Blue, Red feat. Garduz (Luca Gardini) on tenor sax.
Nu-jazz, ChillHouse, Soulful House, Pop-Glamor ... you choose the flavor of this song!
...
B-side of this single, on the contrary, is the cover of a song from the Sting album "Nothing Like The Sun", that
although it was a single, no one seems to remember, perhaps overshadowed by Fragile and Englishman In New
York.
We are talking about the wonderful "Be Still My Beating Heart".
The arrangement gave it to me suggested by the theme song of the series "The Sopranos" by Alabama 3, but not
because I am a fan of the series, but because I heard it during an episode of The Simpsons.
The featuring is taken by Andy G, and will not be part of "23:32".
On iTunes, Bandcamp, Spotify and every digital store from Monday 16, May 2016